I hope this newsletter finds you all in good health after all Monkey Pox is now upon us, what next for goodness sake!!!

So, since the last newsletter the promised heatwave never really materialized and if I was to summarize the weather over the past view weeks it would be as follows

Windy, stronger winds and even stronger winds, that Jetstream really needs to start shifting its derriere somewhere else, we can only hope
Assembly Bench Building Morning
Sunday 8th of May had been pencilled in for what can only be described as a gathering of joinery experts (maybe a conclave ?) to construct the first aircraft moveable assembly bench.

Mark Conlin had spent many hours on his CAD system creating detailed models and drawings of the bench, all to be constructed from reclaimed timber from a garden centre.

The morning arrived of the construction and members started arriving armed with a vast array of power tools. Many of these were clearly Christmas presents and were in pristine condition and clearly never been used, in fact opening the tool cases proved difficult for some members.

Tank Dave arrived with his van packed with what can only be described as an arsenal of power tools. There are clearly DIY tools and 'Dave's' tools.

Somebody was heard muttering if risk assessments and method statements had been compiled, this muttering was soon drowned out by the noise of the power tools starting up like a Grand Prix start.
Within five minutes the construction was underway. The sound of drilling, sawing, hammering and encouraging comments from the side line experts could be heard around the club hut.

I think it is fair to say the construction took longer than people envisaged it taking.

Anyhow the bench was completed, no limbs or widgets were lost in the process which is an added success.

The bench is there for people to use, please return it to the hut area after use please.

Whilst the bench was being constructed another 'working party' had assembled to fell a couple of dead trees around the car park.
The noise of a chainsaw could be heard behind the club hut and several comments 'it might be an idea to move your car' where being shouted over to the bench working party. There was only one incident where a tree dropped in the wrong direction and hit the club hut. I don't think it is right to mention the chainsaw operator but he is called 'Justin'

Below are a selection of photos taken during the construction
With regard to photos within the newsletter I can only work with the original photos I am sent, mostly these are taken on mobile phones. When the photos are inserted into the newsletter they get compressed to keep the size of the document down. Compressing does reduce the quality of the photo, it's a trade-off.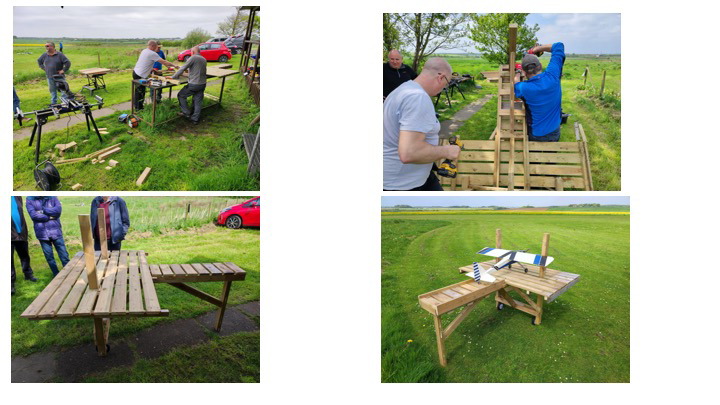 As can be seen from the photos it is a very well-engineered and constructed piece of equipment.

Its intended use is to aid the assembly of aircraft, if you decide to run your engine/motor on the bench you must have a helper to steady/hold the bench.

I personally would not recommend using the bench for engine/motor runs

There is timber left yet to construct more benches, please contact the committee if you would like to help in the construction of another bench
Electric Fly-In Saturday 14th May
Well the weather gods blessed us for the Electric Fly-In !!!
The turnout could have been better to be honest however a couple visitors did attend the event, everybody had a great day
I will not delve deeply into the event as Will Sparrow was in the hedge and has sent a report for the newsletter
Two models that impressed me were the large Mustang and an eflite small carbon cub flown by our own member Marvin, this fly's fantastic albeit in light winds
Again a few photos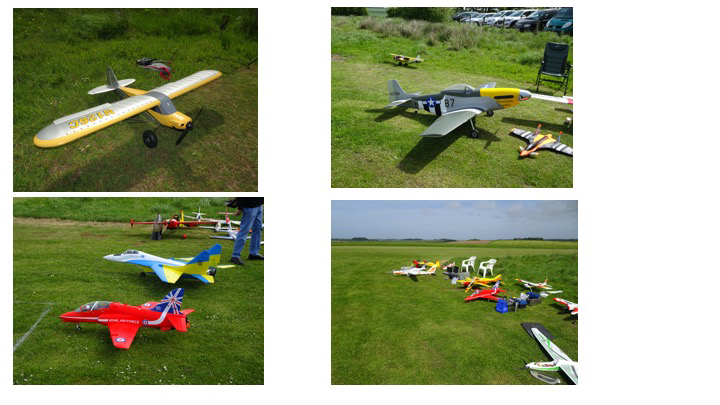 BMFA World Record Attempt
As I am sure you are aware this year is the centenary of the BMFA. Many things are planned to celebrate this milestone. One of the events was a world record attempt on the number of model aircraft in the air at a designated day and time. Anthony Ollerton very kindly put himself forward to be our point of contact for this event and has provided the report below
BMFA World Record Attempt
To mark the BMFA centenary, clubs were invited to participate in an attempt to set a new world record. For the total number of aircraft in the air at 12 noon on the 15th of May 2022.
On the day conditions were less than favourable with a southerly breeze which made for some interesting and challenging flying. Nevertheless 19 intrepid pilots stepped up to the flight line.
As 12 o clock drew closer, and the coordinator got more and more flustered (did someone say herding cats!) John Smith led the group with his glider followed by a squadron of Wot4s and Duncan Melville bringing up the rear with his Mascot trainer.
Jason Reid and I launched our Mavic Mini drones to add to the total and record the proceedings.

A special mention goes to Ethan Hindley who piloted a UMX mustang successfully in the difficult conditions.

A few younger family members were also roped in and launched 6 paper aeroplanes as the clock struck noon.
The BMFA have since confirmed that combined with the other 262 clubs we managed to achieve a total of 3109 models in the air at 12 noon!

This is a huge total and smashes the previous record.
I would like to give a big thank you to all that participated and helped on the day and a full list of the participants can be found below.
Dave Hindley Paper Aeroplane
Peter Eyres RC Fixed Wing
Stephen Warburton RC Fixed Wing
Paul Cusworth RC Fixed Wing
Anthony Ollerton Multi-Rotor /Drone
Emily Ollerton Paper Aeroplane
Jake Reid RC Fixed Wing
Jason Reid Multi-Rotor /Drone
Andy Moore RC Fixed Wing
Rob Ellis Paper Aeroplane
John Smith RC Fixed Wing
Ethan Hindley RC Fixed Wing
Blake Crosley Paper Aeroplane
Mark Conlin RC Fixed Wing
Oscar Rawson Paper Aeroplane
Jessica Rawson Paper Aeroplane
Andy Harrison RC Fixed Wing
Justin Goldstone RC Fixed Wing
Duncan Melville RC Fixed Wing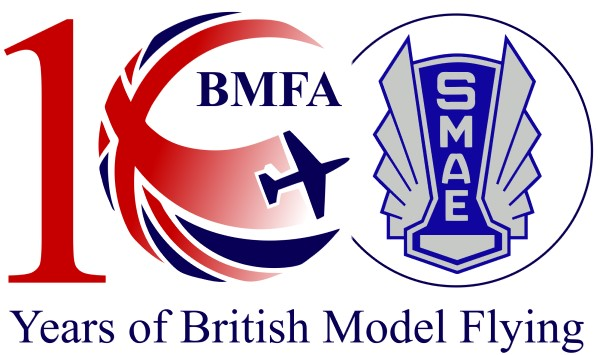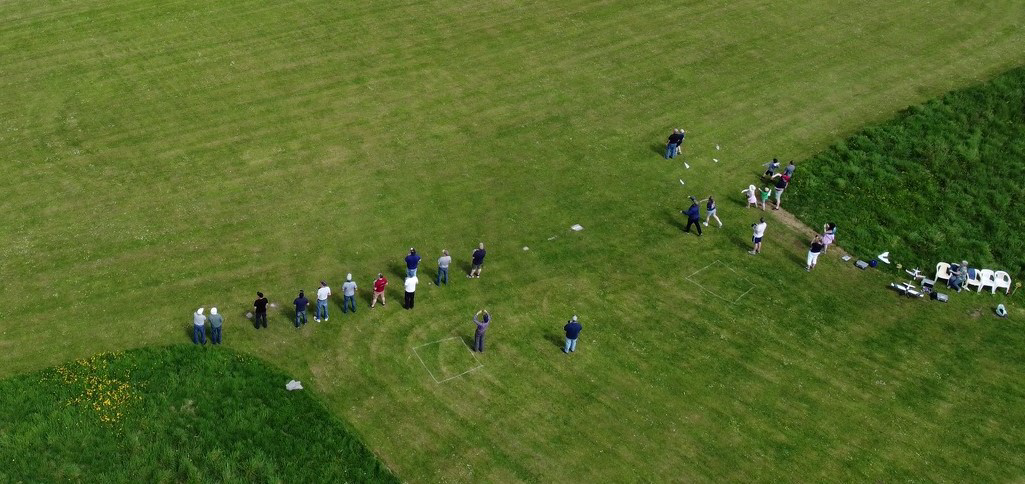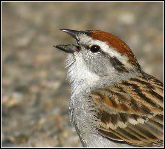 A VIEW FROM THE HEDGE. (By Will Sparrow)
From time to time, when a spot of maintenance needs doing on the hut, for instance, your club organises a working party to do the necessary. Many members look forward to these sessions, not only as it gives vent to their DIY skills but for the camaraderie and banter that is generated. I always look forward to these events as they always provide me with entertainment as well as enabling me to learn many new words (!) The last hut refurbishment saw members spraying themselves with wood preservative, with one, not to be outdone, tipping green paint over himself. What fun! You can imagine my anticipation when I noticed a large pile of construction timber had appeared next to the club hut. What was it for? What entertainment might be about to be released on a curious sparrow? I could hardly wait for the action to begin.

The action began on the morning of Sunday, 9th May. The objective was to produce a model assembly bench. The volunteers set to work with a vengeance. You should have seen them go! Had the time of year been different and the location been a grotto rather than the great outdoors, it would have taken but a small leap of imagination (and the addition of some pointy hats) to see Santa's elves trying to complete the festive orders. Saws whirred and the air was thick with sawdust, screws were driven home by the hundred. I have never witnessed such a screwing frenzy! The finished product looked capable of restraining the largest of models: built to last, as they say.

Saturday, 14th May was the only decent flying day for ages. Luckily, the date coincided with your club's electric fly-in. The car park quickly filled with members and visitors from afar. It's always nice to see other people's models. The most notable model, to my eye, at least, was a large P51 Mustang. Everything about this model was notable; it was flown in a most realistic manner by its owner and even sounded right. I eaves-dropped on the conversations in the pits regarding the model. This ARTF was running on 12S, 1600mah lipos drawing about 100amps. I quickly worked out (not all sparrows are innumerate, you know) that the model was running at 5Kw. Wow! No wonder it flew convincingly. Another model to take my eye was a modern Russian, twin edf fighter plane. This foam model had been delivered in a Russian camouflage scheme but the owner had repainted it in the blue and yellow of Ukraine. Respect! One member managed to nose-dive his semi-autonomous, all black flying wing into the rape crop. The model was able to relay its GPS position and this was duly loaded into Google Maps. The searchers walked to the exact location but the model refused to give up its position. I flew over the spot later in the day but drew a blank. Apart from this mishap, a good time was had by all.

The very next day was the date set for the BMFA "maximum number of models in the air at noon" event. I must confess that I had expected this event to turn into a "mid-air of the year" event. Thankfully, my fears proved to be unfounded and I logged about 20 planes in the air as noon approached. The weather was in complete contrast to the previous day; a strong southerly wing was blowing. Despite this, all the models made it back to earth safely. I still could not stop myself wondering (since this event was taking place at flying clubs nationwide) just what the national model death toll might turn out to be. I wonder if BMFA will tell us…

Did you see the Blood Moon in the early hours of Monday, 16th May? I'm always up at 4- 00am at this time of year but I couldn't see it. Life is full of disappointments…

WS
Trainers
Below is the list of current trainers for the club. Get to know these people if you are learning to fly. Ask them for their phone numbers so that you can ring them to check availability. This save's wasted journeys which can lead to frustration for trainees.

Jason Reid, Mark Conlin, John Higgins, Brian Holdsworth, Chris Vernon, Andy Harrison, Jim Sheldon, Paul Cusworth, Justin Goldstone and Kevin Watson.

The vast majority of these trainers are in employment so their availability is governed by their work. Please bear this in mind when arranging a flying session

Don't forget the main training session during the summer is Wednesday nights, weather dependant of course
Reminder of up and coming events this summer:
Please support these events if you can even if you just visit the field for an hour to show support to Jake and the work he puts in to organize these events
Jet Day Sat 11th June
Let's burn some kero! Get you jets out be it turbine or EDF, open to all clubs with BMFA membership and B cert needed to fly turbine jets. Refreshments available on the day.
BMFA North Western Scale Event Sun 10th July
A BMFA organised scale event. All club members welcome to enter. Refreshments available on the day. Gate opens at 9AM flying from 10AM.
Annual Club Fly- In Sat 23rd July
Our annual club fly in, open to all clubs with BMFA membership, a day to relax and enjoy flying. The whole family welcome to come, refreshments available on the day along with a raffle.
Aero Show Trophy Sat 17th September
Our annual club aero show competition. Fly a simple scale schedule.
Finally, I could not resist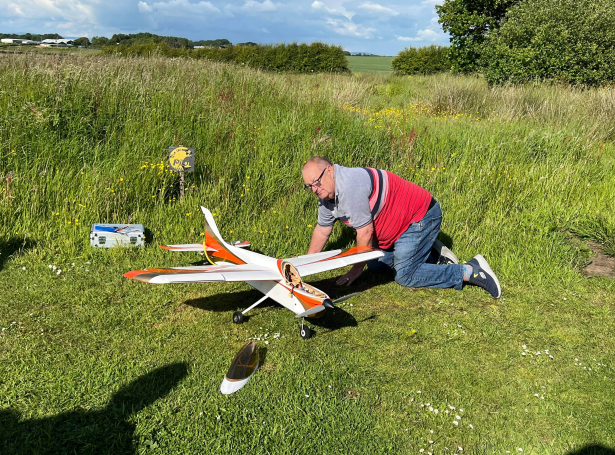 'Please I am begging you, I am on my knees praying to you, just fly'

Stay Safe

Chris V