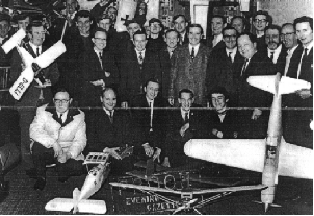 The idea of forming a new model club was first thought of in 'Sharpes Paint Shop' Church Street, Blackpool by Peter Sharpe, Derek Hammond and Les Childs. The inaugural meeting was held in October 1958 and was attended by the aforementioned plus TGE Clarke, G.Gower and B. Haddleton. At this meeting Les Childs was elected Chairman, P. Sharpe became the first Secretary and D. hammond our first Treasurer, while the remainder formed the first ever committee. Norman Leech accepted an invitation to become the first President.
The first meetings were held on the first and third Wednesdays in every month at the Veevers Arms pub in Blackpool. Members wives would donate the raffle prize to cover the cost of the room. The club badge was designed by G.Gower. This was a windmill representing the Fylde, with the four sails depicted as forkes of lightning.
In those days about 90% of the members were primarily interested in model boats. In 1961 a Regatta was held on Stanley Park with almost sixty enthusiasts attending from Birmingham, Preston, Fleetwood plus of course local club members. By 1962 the club had grown to some thirty five members.
In 1961 the society had a stand in the Ideal Home 7 Beauty Exhibition where demonstrations of Round the Pole flying , Radio Controlled Cars and a triangular 3 wheeled multi-directional robot were given, plus a static display of model aeroplanes and boats.
Model flying was done at Lawson Road where the DeVere Hotel now stands, later various sites were used such as the field adjacent to the reservoir at Wrea Green, Great Eccleston, Bonds lane Elswick and off the back road to Lytham known as Blowing Sands.
Today, the club flying field is situated near Weeton (on the blackpool side) and caters for 70+ members each year. We are fortunate to have one of the best flying sites in the country with a landing strip approximately 130m x 60m with plenty of open fields all round.