So this newsletter comes tinged with sadness with regard to the passing of our club president Dave Swarbrick (Big Dave)
Dave had not been to well over the past few weeks and sadly his illnesses got the better of him
From a personnel note I stumbled across Dave whilst I was riding my BSA Bantam on Lawson Road fields circa 1976. Dave was flying an RC helicopter and I had stopped to observe the flying. I started asking questions and after a couple of minutes I was greeted with 'Would you mind shutting up whilst I concentrate'. After Dave landed we had a good chat about motorbikes and RC models which I was just starting with. I will never forget that introduction to Dave but that was Dave all over, you knew exactly where you stood with him !!!
Dave and Knobby (Gordon Clarke) were like a comedy act but like all comedy acts had their fall outs. I once witnessed one of their meltdowns over a clevis on a model !!!
Let's be honest he could and did get peoples backs up but deep down he had the club interests at heart. Dave was passionate in instilling safe flying at our club and would always speak out about dangerous flying when he visited other clubs and fly-ins.
I can remember years ago when we held our fly-ins we would get great turn outs. Dave would give the pilots briefing. One such briefing went along the lines of 'There is a cross wind today so you will have to use your rudder, I know half of you don't know what the rudder does on your plane so ask your mate, I am assuming he knows what it is for, if you cannot use your rudder you have wasted your petrol coming today'
That was Dave summed up in a nutshell. I got on well with Dave although we did cross words many a time but we moved on RIP Dave.
Below is the obituary that our chairman Paul Cusworth asked me to include in the newsletter

Obituary – Dave Swarbrick (Big Dave) Blackpool and Fylde Radio Controlled Model Society 1945 – 2022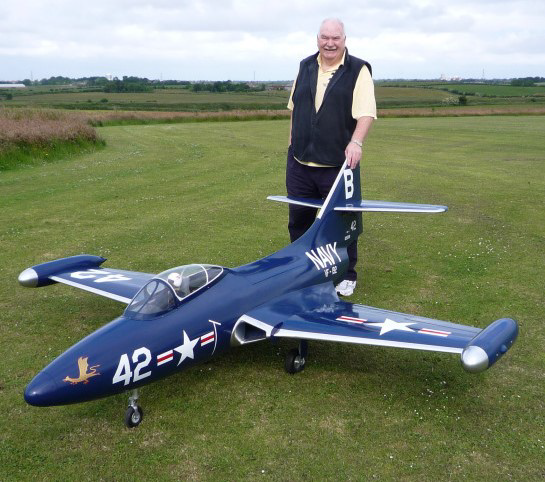 It is with great sadness that I share with you the passing of my good friend Dave Swarbrick, after a long illness.
Many of you will have met and know Dave from the model aircraft shows that he attended.
Born 10th May 1945, Dave's childhood was spent in the family's 3- acre market garden on Blackpool's famous Marton Moss. The family grew mainly Greenhouse crops of lettuce, tomatoes and Chrysanthemums and David was the fourth of five children. It was Dave's older brother Bob who introduced him to model aircraft and Dave worked all Summer, as a young boy to be able to afford his first model engine, which cost the princely sum of 10 shillings (50 pence). It was his brother Bob though who quietly and clandestinely sold boxes of his father's tomatoes to hoteliers and to local shops to get the money for Dave to buy that first engine.
Dave first met Cath, his wife, at the age of 20. He cycled 4 miles every night to her home to court her. They married in 1967, and were both keen motorcyclists for many years, Dave becoming Chairman of Blackpool Motorcycle Club.
Whilst living in Blackpool Dave and his friends "Drag Raced" a turbo charged Vincent Motorcycle. If it didn't blow up on the start line, it usually blew up before the end. During the same period, Cath won a ¼ mile drag race on the lower promenade in Blackpool on her 600cc BSA Super Rocket which chuffed Dave no end. She wasn't too happy though when coming home from work one day to find engine parts heating away in the oven to remove piston rings.
After a road accident David was laid up at home and to occupy him Cath bought him a radio-controlled model aeroplane to build. This was the start of his lifelong hobby. He met up with a friend Gordon (Nobby) Clark and they set off together to learn to fly radio-controlled aeroplanes.
Dave started with trainer aircraft and went on to fly Scale models and then to larger, faster acrobatic planes. 1976 saw him and Nobby struggling to control the first prototype helicopters. Once proficient with those, the move was on to go faster, further, higher, louder – to Jet engines.
He and Nobby remained great friends for many years, flying with the Blackpool and Fylde RCMS and together at shows and charity events throughout the northwest of England
Dave started work at his family's business and later went to work at a local seed firm as the manager of their seed trial grounds. He also started visiting the customers and growers. With his massive personality he grew a huge client base for the company. He was then head hunted by the large Dutch company Rijk Zwaan, as part of their UK Group.
Dave travelled all over the UK and Europe giving advice to customers on all aspects of glasshouse horticulture. He still has many friends in Holland and Europe.
When at home Dave continued flying and persevered with the early temperamental jet engines. He formed North West Turbines with a friend "Jet Joe" in China. He also learned engineering skills from his good friend Harold Dowbekin and a lathe and milling machine were added to the bulging extended garage come workshop.
His main hobby however was still the model flying. He was a member of the Blackpool and Fylde RCMS for over fifty years. During this time, he was the club safety officer, a committee member, an instructor, an examiner and latterly became club President. Without Dave the Blackpool club would not be what it is now. He did a tremendous amount of work to obtain and keep the superb flying site we enjoy today.
Dave was also involved in the BMFA for many years and sat on the RC technical committee to ensure the hobby was safe and well policed. He was also heavily involved in the Large Model Association (LMA) and flew at many events, showcasing jointly with Harold Dowbekin, the two giant Grumann Panthers they had built together. The Panther was his pride and joy which he cherished. He flew in charity events and shows with his best friend Jason Reid, his "adopted" son around the country and the Cosford air show was his favourite event.
He went to Jetpower in Germany several times with his friends Jason, Paul and Jim and enjoyed meeting up with friends, made over many years.
Dave was a larger-than-life character, both physically and in personality. He was loud, and often opinionated, but he was funny, a raconteur, generous, and with those he loved he was a gentle, sweet, loving, big hearted giant.
A big man who leaves a big space in the lives of his family and friends alike!
I will personally miss him tremendously.

Paul Cusworth
Blackpool & Fylde RCMS
Chairman